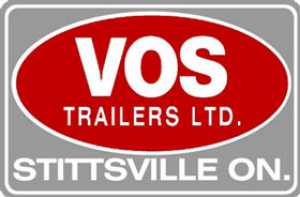 Vos Trailers
Contact Information
Dealership Location
Vos Trailers
1560 Main Street South
Stittsville (Ottawa), ON
K2S 1A9
Hours of Operation
Mon: 9:00 - 5:30
Tue: 9:00 - 5:30
Wed: 9:00 - 5:30
Thur: 9:00 - 5:30
Fri: 9:00 - 5:30
Sat: 9:00 - 1:00
Sun: CLOSED
Contact RV Dealer
Since 1969, Vos Trailers has been serving Eastern Ontario's and Western Quebec's RV community with a focus on customer service and satisfaction. Located at 1560 Main St. in downtown Stittsville, our dealership is family owned and operated.

Sales Department
Click To Open
We carry a wide selection of travel trailers, fifth wheels and park models. There is always an excellent selection of new and pre-owned RVs on the site. There is a floor plan for any need, style or budget.
"We have always maintained a relaxed and comfortable atmosphere", says Ernie Vos, who runs the business with his daughter Carolyn and son Gord. "Its important for us to build relationships with our customers. There are no high-pressure sales tactics or gimmicks here. We have our sale prices, without time restrictions. From working with the first-time buyer in choosing the right unit the first time, to setting up the full-timer with their dream home on wheels, our knowledge and dedication will ensure a hassle-free experience."
Sales Department
Sales Hours
Monday: 9:00 am - 5:30 pm
Tuesday: 9:00 am - 5:30 pm
Wednesday: 9:00 am - 5:30 pm
Thursday: 9:00 am - 5:30 pm
Friday: 9:00 am - 5:30 pm
Saturday: 9:00 am - 1:00 pm
Sunday: Closed

Service Department
Click To Open
VOS Trailers Service Department brings you over 82 years of combined RV Service Experience. We are committed to complete customer satisfaction. We are pleased to offer a Fully Factory Trained Service Department. For your safety, all of our technicians hold multiple licenses. We are registered as a TSSA contractor.

Whatever your needs, our knowledgeable and friendly staff, will address them in a timely, professional and courteous manner. We have licensed mechanics and certified RV technicians, available to service any RV related issue, whether it is warranty work on your new RV, tow vehicle issues, installing hitches, or collision damage. We specialize in appliance, electrical, plumbing, structural, slide-out, and chassis repairs.

Our property includes service bay expansions giving Vos Trailers 65' service bays, long enough to house the largest RVs and being open all year round means we're here for you when you need us. Remember: we service all makes and models at very competitive rates!
Service Department
Service Hours
Monday: 9:00 am - 5:00 pm
Tuesday: 9:00 am - 5:00 pm
Wednesday: 9:00 am - 5:00 pm
Thursday: 9:00 am - 5:00 pm
Friday: 9:00 am - 5:00 pm
Saturday: Closed
Sunday: Closed

Parts Department
Click To Open
We carry RV parts and accessories from some of the largest and most popular manufacturers and distributors in the industry. Our parts department staff are extremely knowledgeable and will help sort through all the questions and considerations you have when choosing the right parts for your recreational vehicle.
We also have a complete online catalogue of hundreds of brand name RV parts and accessories available for your convenience.
Parts Department
Parts Hours
Monday: 9:00 am - 5:30 pm
Tuesday: 9:00 am - 5:30 pm
Wednesday: 9:00 am - 5:30 pm
Thursday: 9:00 am - 5:30 pm
Friday: 9:00 am - 5:30 pm
Saturday: 9:00 am - 4:00 pm
Sunday: Closed