Join RVHotline Canada's RV Trader Lead Generation Service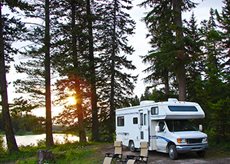 If you're an RV dealer that wants to sell your RVs online and reach thousands of potential buyers, RVHotline Canada is the RV Trader Classifieds website to join.

Set up is easy, and we walk you through the process of getting your units up on our website and in front of millions of people a year who are looking for an RV in your area.
Let Your RV Trailer Sales Skyrocket
If you're an RV dealer and want to increase your motorhome and travel trailer sales, setting yourself up to sell your RV units online is easy. We have developed highly robust RV dealer management software that guarantees to increase your online rv sales, grow your website's overall exposure and increase online traffic to each of your listed units.
With a continual online presence of almost 20 years as an RV auto trader website, RVHotline Canada has worked tirelessly to provide not only qualified communication between customers and RV dealers and also a very unique and entirely Canadian platform. What this means is that our target audience is mainly directed towards Canadians looking online to find an RV, and when they find an RV of choice through your dealer profile, they'll be able to contact you directly.
RV Web, Internet & RV Marketing Services
We assist both the Canadian and Provincial RVDA organizations in managing their rv dealer member databases, their various RV related websites and support and advertising for annual RV Shows across the country.

We are a loyal and vocal supporter of buying Canadian, and we support many of the RV industry's media vehicles and organizations such as; RVCare.ca, RVCareers.ca, BuyLocalRV.ca, RVShowsOnline.ca and many more.
We Faciliate Buying and Selling RVs Online
So, our history is long and storied, our expertise in technology related to selling RVs online is clearly demonstrated. Our annual company growth is steady and each year our RV sale related products and services improve. Our most recent upgrade was carefully designed to increase the number of customer leads our participating RV dealers receive and the quality of those leads as well.
We are offering new advertising opportunities on RVHotline this season - banners, premium dealer opportunities and featured article postings that will increase awareness and brand recognition as well as new participation packages that will suite every size of dealership and help each company achieve their marketing goals for the season. Call our Sales Department at 1-866-642-2343 and an account manager will give you the details on all our products and services.

Call 1-866-642-2343 today!
Take Advantage of Our RV Trader Software
RV Dealers are urged to take advantage of our RV Trader and Classifieds software and to wholly benefit from the following feature:
We are not an internet start-up or fancy flash-in-the-pan; we have a long history in the Canadian RV industry and will be here for many more years.
We do not ask dealers to pay based on the size of their inventory, all packages include unlimited listings.
Only Canadian dealers can advertise on RVHotline Canada. This keeps the integrity of membership and means that cheaper US prices are not advertised next to your units.
Our packages vary based on the amount of coverage your dealership receives throughout the website. The bigger the package the more your dealership brand appears on the site.
When you list with us you are also added to our additional Canadian and Provincial dealership listings websites.
Participating dealers have a dedicated account manager, so that when you call we can guarantee you will talk to someone that can help you immediately. There is no ticket system or support cue, just immediate support and satisfaction.
Our inventory management and web marketing platform is called "focus" and is extremely easy to use, on any device, any time of the day or night.
From our platform we can feed just about any other web advertising system or classified website you do business with, making inventory advertising simple and quick. Upload units once and have them sent to as many other websites as needed within 24 hours, automatically.
Many dealers that join RVHotline end up asking for our help with their websites and other marketing initiatives the following season. Website traffic analysis and ranking reports, search engine optimization and marketing, PPC and re-targeting campaigns, inventory integration and website design, mobile websites and apps, just to name a few…
What are you waiting for? You want to become the largest RV dealer in your area correct? That's good news! Simply give us a call right now toll free at 1-866-642-2343, and if it's past business hours, that's OK, you can click here to leave us some information about yourself and your RV dealership and we'll respond to you the next business day.
Start Selling Your RVs Today!