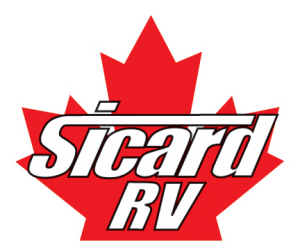 Sicard RV
Contact Information
Dealership Location
Sicard RV
7526 Regional Road 20
Smithville, ON
L0R 2A0
Hours of Operation
Mon: 9:00am - 5:00pm
Tue: 9:00am - 5:00pm
Wed: 9:00am - 5:00pm
Thur: 9:00am - 5:00pm
Fri: 9:00am - 5:00pm
Sat: 9:00am - 5:00pm
Sun: Closed
Closed For Holidays: Mon, Dec 21 - Mon, Jan 4 - Holidays Mon, Feb 14 - Family Day Mon, May 24 - Victoria Day Mon, Jul 5 - Canada Day Mon, Aug 2 - Civic Holiday ... For a full list, check our website.
Contact RV Dealer
COVID-19 Update
Sicard RV facilities are open with some new restrictions; you can read our full announcement here:
Celebrating Over 50 Years In Business!
As a family business it is our goal to make you feel like you are part of our family. Our many years of experience and customer satisfaction ensures that your needs will be met.
Through the hard work and dedication of Omar and Marjorie Sicard, what began as a modest RV operation with 2 hard-top fold-down trailers has grown into something special...
A large 30 acre lot and modern indoor showroom await you. With a huge selection of new and pre-owned recreational vehicles on display every day from leading manufacturers, you'll be sure to find what you're looking for.
Your vehicle will receive quality care in one of our 16 service bays. We also feature one of the largest Parts & Accessories stores and also feature an on-site Detailing & Restoration facility to clean, protect, detail and renew your RV.
Because we are one of Canada's largest volume dealers, we can assist you in negotiating a great deal on the RV of your choice. Our extensive service center is there backing up everything that we sell.
Featured News & Specials
Sicard RV Named 2019 Top 5 Blue Ribbon RV Business Top 50 Dealer!
We are proud to have been nominated and awarded a RV Business Top 50 Dealer again for 2019! This time we were also named a top 5 Blue Ribbon recipient!
""
Check Out Our RV Specials
Visit our website to see our featured RV inventory, specials and promotions.
Sicard RV News Feed

Sales Department
Click To Open
Sales Department
Sales Hours
Monday: 9:00am - 5:00pm
Tuesday: 9:00am - 5:00pm
Wednesday: 9:00am - 5:00pm
Thursday: 9:00am - 5:00pm
Friday: 9:00am - 5:00pm
Saturday: 9:00am - 5:00pm
Sunday: Closed

Service Department
Click To Open
Service Department
Service Hours
Monday: 9:00am - 5:00pm
Tuesday: 9:00am - 5:00pm
Wednesday: 9:00am - 5:00pm
Thursday: 9:00am - 5:00pm
Friday: 9:00am - 5:00pm
Saturday: 9:00am - 5:00pm
Sunday: Closed

Parts Department
Click To Open
Parts Department
Parts Hours
Monday: 9:00am - 5:00pm
Tuesday: 9:00am - 5:00pm
Wednesday: 9:00am - 5:00pm
Thursday: 9:00am - 5:00pm
Friday: 9:00am - 5:00pm
Saturday: 9:00am - 5:00pm
Sunday: Closed