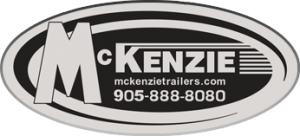 McKenzie RV Trailers
Contact Information
Dealership Location
McKenzie RV Trailers
2 CARDICO DRIVE
Stouffville, ON
L4A2G5
Contact RV Dealer
McKenzie R.V. Trailers used vehicle inventory again caters to all needs and budgets ranging from older 20 - 30 foot Travel Trailers perfect for extra sleeping accommodations starting as low as $1,000 to the more recent $40,000 luxurious travel trailers. Regardless of price, quality and value are always assessed and assured among their carefully selected pre-owned vehicles.

The dealership family has the utmost experience, knowledge and professionalism to make customers their number one priority. Staff strives to satisfy evolving and increasing customer needs and demands that expect more value, greater savings, and better services. To meet these targets, the dealership recently increased total staff size, revamped a new in-house financing and leasing program, and developed expansion plans for its Full Products, Accessories and Parts. A new 9000 sq ft service facility was completed in January 2003.
These new enhancements will accommodate the dealership's existing custom and commercial repair shop as well as its three drive-through 25-foot high by 14-feet wide service bays suitable for servicing any outdoor recreational or industry-related vehicle on site and on time.

McKenzie RV Trailers News Feed

Sales Department
Click To Open
Sales Department
Sales Hours
Monday: 9AM - 6PM
Tuesday: 9AM - 6PM
Wednesday: 9AM - 6PM
Thursday: 9AM - 6PM
Friday: 9AM - 6PM
Saturday: 9AM - 5PM
Sunday: 11AM - 3PM

Service Department
Click To Open
Service Department
Service Hours
Monday: 9AM - 6PM
Tuesday: 9AM - 6PM
Wednesday: 9AM - 6PM
Thursday: 9AM - 6PM
Friday: 9AM - 6PM
Saturday: 9AM - 5PM
Sunday: CLOSED

Parts Department
Click To Open