Great Canadian RV Ltd
Contact Information
Dealership Location
Great Canadian RV Ltd
7960 Hwy7
Peterborough, ON
K9J 6X3
Hours of Operation
Mon: 9am-5pm
Tue: 9am-5pm
Wed: 9am-5pm
Thur: 9am-5pm
Fri: 9am-5pm
Sat: 9am-3pm
Sun: By Appointment
We are generally available to meet after hours as well by appointment.
Contact RV Dealer
Located in the Heart of the Kawartha Lakes, just one mile south of Fowlers Corners west of Peterborough!! Proud to be the RVDA CANADIAN RV DEALER OF THE YEAR(2020) AND ORVDA ONTARIO DEALER OF THE YEAR (2020). Our dealership offers the Best of Everything with Quality Trailers, Huge Inventory, Great Service and Unbelievable Pricing. We have licensed technicians who offer in house service with over 70 years combined experience . We also offer insurance repairs. Our fully stocked store is second to none with repair parts, accessories, and towing supplies. Come see our large selection of travel trailers, 5th wheels, light weight trailers and destination park models designed to suit every budget! Coachmen Catalina and Freedom Express Travel Trailers, EAST to WEST Alta and Della Terra Travel Trailers, Ahara and Tandara 5th Wheels, ROCKWOOD/Geo Pro Travel Trailers, 5th Wheels and Camper Trailers, PUMA Travel Trailers and 5th Wheels and the AMAZING RIVERSTONE 5th Wheels....something for everyone! LOADS OF UNITS IN STOCK NOW! We are also Proud Sponsors of the Kinsmen Toy Drive, Kawartha Food Share, Yellow Ribbon Campaign, Peterborough Petes OHL Hockey, Local hockey teams and many more community events.
Great Canadian RV Ltd News Feed

Posted on 5/25/2022 at 10:18:41 AM
PHONE LINES ARE CURRENTLY DOWN. MAY 25, 2022
Read More

Posted on 7/12/2019 at 3:47:39 PM
Local family to be presented with a brand new Coachmen Catalina Summit travel trailer at Great Canadian Open House on July 27.
Read More

Posted on 6/25/2017 at 9:10:14 AM
Thank you from the James Barker Band
Watch Video

Sales Department
Click To Open
NO SURPRISES! Our Price includes; PDI, freight, full propane, battery, new water hose, sewer hose, hydro adaptor, water regulator and more on all new travel trailers!

We CARE about you after your purchase with the best service we can give and a SERVICE POLICY in Writing
Sales Department
Sales Hours
Monday: 9:00 AM - 5:30 PM
Tuesday: 9:00 AM - 5:30 PM
Wednesday: 9:00 AM - 5:30PM
Thursday: 9:00 AM - 5:30 PM
Friday: 9:00 AM - 5:30 PM
Saturday: 10:00 AM - 4:00 PM
Sunday: By Appointment Only

Service Department
Click To Open
Great Canadian RV prides itself on its commitment to achieving customer satisfaction through superior RV service. We Endeavour to create an on-going relationship with all of our customers to ensure their units benefit by regular maintenance and seasonal tune-ups. This attention to detail will maximize the value of their unit in the long run as well as ensure a trouble-free RV experience.
Service Department
Service Hours
Monday: 9:00 AM - 5:00 PM
Tuesday: 9:00 AM - 5:00 PM
Wednesday: 9:00 AM - 5:00 PM
Thursday: 9:00 AM - 5:00 PM
Friday: 9:00 AM - 5:00 PM
Saturday: Closed
Sunday: Closed

Parts Department
Click To Open
With a bright and spacious parts and accessories department, we offer all of those must-have items. What we don't have on site we can usually order in a matter of days.

View our online parts catalog to see what we have to offer!
Parts Department
Parts Hours
Monday: 9:00 AM - 5:30 PM
Tuesday: 9:00 AM - 5:30 PM
Wednesday: 9:00 AM - 5:30 PM
Thursday: 9:00 AM - 5:30 PM
Friday: 9:00 AM - 5:30 PM
Saturday: 10:00 AM - 4:00 PM
Sunday: By Appointment Only
Parts Store Specials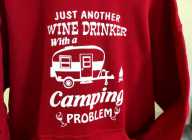 WINE DRINKERS HOODIE
$45.00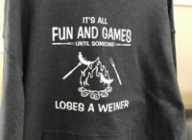 Its all fun and games HOODIE UNISEX
$45.00