Destination RV
Contact Information
Dealership Location
Destination RV
13161 County Road 16
Waubaushene, ON
L0K 2C0
Hours of Operation
Mon: 9:00 AM - 5:00 PM
Tue: 9:00 AM - 5:00 PM
Wed: 9:00 AM - 5:00 PM
Thur: 9:00 AM - 5:00 PM
Fri: 9:00 AM - 5:00 PM
Sat: CLOSED
Sun: CLOSED
Contact RV Dealer
Destination RV is a family owned and operated RV dealership. We began providing true quality client service to the greater Barrie area in May 2011. Our newly renovated 3600 sq. ft. office/shop on our 5 acre property, located in Ontario's Lake Country about 1 1/2 hour north of Toronto or 1/2 hour north of Barrie allows your team of qualified product experts the facility they need to ensure you receive the quality assistance that you and your family deserve. With a full understanding and appreciation for our clients, as we too are RV'ers. Your team of qualified product experts at Destination RV, will provide a listening ear for the purpose of assisting you and your family in finding the trailer that best suits. Your Team of certified and experienced technicians will ensure that you get the respect, appreciation, and quality service that you deserve from your family dealership. Destination RV's team focus is to share its knowledge and enthusiasm with you, to make your family RV experience enjoyable and positive. We encourage you to browse our new and used 5th Wheels, Travel Trailers, Hybrid/Expandable Trailers, Toy Haulers, Park Models and Cargo Trailers, schedule a visit and investigate financing options.
Destination RV News Feed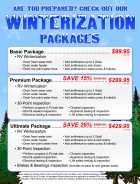 Posted on 9/5/2017 at 1:00:14 PM
Special RV winterization package offers! Maintenance is extremely important for your RV. Ensure your RV is in good standing this winter with our compr...
Read More

Posted on 5/30/2017 at 12:36:17 PM
Let's talk about the most popular rear kitchen floorplan by Cherokee RV, the 2018 Cherokee 274RK. What makes this travel trailer a very popular rear k...
Read More

Posted on 5/2/2017 at 3:18:21 PM
Lightweight all-aluminum toy hauler has arrrived north of Barrie! Its the ideal layout for a couple, plenty of room to stay for the weeked, and bring ...
Watch Video

Sales Department
Click To Open

Service Department
Click To Open

Parts Department
Click To Open