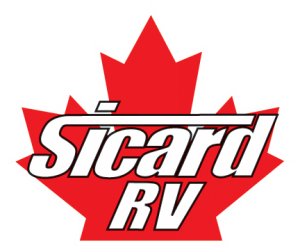 Sicard RV
Contact Information
Dealership Location
Sicard RV
7526 Regional Road 20
Smithville, ON
L0R 2A0
Hours of Operation
Monday: 9:00am - 6:00pm
Tuesday: 9:00am - 6:00pm
Wednesday: 9:00am - 6:00pm
Thursday: 9:00am - 6:00pm
Friday: 9:00am - 5:00pm
Saturday: 9:00am - 5:00pm
Sunday: Closed
Contact RV Dealer
As a family business it is our goal to make you feel like you are part of our family. Our many years of experience and customer satisfaction ensures that your needs will be met.
Through the hard work and dedication of Omar and Marjorie Sicard, what began as a modest RV operation with 2 hard-top fold-down trailers has grown into something special...
A large 30 acre lot and modern indoor showroom await you. With a huge selection of new and pre-owned recreational vehicles on display every day from leading manufacturers, you'll be sure to find what you're looking for.
Your vehicle will receive quality care in one of our 16 service bays. We also feature one of the largest Parts & Accessories stores and also feature an on-site Detailing & Restoration facility to clean, protect, detail and renew your RV.
Because we are one of Canada's largest volume dealers, we can assist you in negotiating a great deal on the RV of your choice. Our extensive service center is there backing up everything that we sell.
Featured News & Specials
RV Show at Lime Ridge Mall
June 1st to 4th, 2017
4-Days Only - Great Deals on Remaing 2016s
Save thousands of dollars on travel trailers, fifth wheels, park models and motorhomes during the weekend event!
Location & Directions by Google Maps
Luxury Fifth Wheel Sale!
Receive a FREE 4-Year Extended Warranty
Purchase any qualifying luxury fifth wheel before May 31st, 2017 and you will receive a complimentary 4-Year Ultimate RV series UltraMax warranty from Global Warranty.
Take advantage of this opportunity to save on a new luxury fifth wheel and enjoy the comfort that comes with an extended warranty that starts after the manufacturer warranty ends. This effectivel provides Keystone fifth wheels a 5-year warranty and Jayco fifth wheels a 6-year warranty!
Winnebago Carefree Diesel Days!
3-Year, 100,000 Mile Warranty
Looking for a new diesel pusher? Winnebago has been defining the industry since their first RV was built, and now they're offering this sweet deal.
Purchase any new Winnebago diesel pusher between March 1st, 2017 and August 31st, 2017 and you'll receive this extended manufacturer warranty!
View our Winnebago diesel pushers
We Are Buying Motorhomes!
Have a motorhome you are looking to sell? We might be interested! Contact us at 1-800-688-2210 or 905-957-3344 and ask for Roger or Gary!
Get AIR MILES Reward Miles on Parts & Service at Sicard RV
Get MILES for buying the parts & accessories you want and having the service work done your RV needs!
Check Out Our RV Specials
Visit our website to see our featured RV inventory, specials and promotions.
Sicard RV News Feed
Sales Department
Click To Open
Sales Department
Sales Hours
Monday: 9:00am - 6:00pm
Tuesday: 9:00am - 6:00pm
Wednesday: 9:00am - 6:00pm
Thursday: 9:00am - 6:00pm
Friday: 9:00am - 5:00pm
Saturday: 9:00am - 5:00pm
Sunday: Closed
Service Department
Click To Open
Service Department
Service Hours
Monday: 9:00am - 6:00pm
Tuesday: 9:00am - 6:00pm
Wednesday: 9:00am - 6:00pm
Thursday: 9:00am - 6:00pm
Friday: 9:00am - 5:00pm
Saturday: 9:00am - 5:00pm
Sunday: Closed
Parts Department
Click To Open
Parts Department
Parts Hours
Monday: 9:00am - 6:00pm
Tuesday: 9:00am - 6:00pm
Wednesday: 9:00am - 6:00pm
Thursday: 9:00am - 6:00pm
Friday: 9:00am - 5:00pm
Saturday: 9:00am - 5:00pm
Sunday: Closed