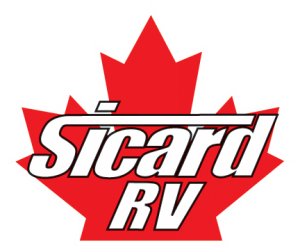 Sicard RV
Contact Information
Location
Sicard RV
7526 Regional Road 20
Smithville, ON
L0R 2A0
Hours of Operation
Monday: 9:00am - 6:00pm
Tuesday: 9:00am - 6:00pm
Wednesday: 9:00am - 6:00pm
Thursday: 9:00am - 6:00pm
Friday: 9:00am - 5:00pm
Saturday: 9:00am - 5:00pm
Sunday: Closed
Contact Dealer
On Fall Hours
Beginning Monday, September 28th, 2015, we will be open until 6:00pm from Monday-Thursday.
Toronto Fall RV Show & Sale
October 16th, 17th & 18th, 2015
The first RV show of fall takes place at the Toronto International Centre!
Closed on Friday, October 9th, 2015
We will be open for a limited number of services on October 9th. If you plan on visiting us on this Friday, to ensure we are able to accommodate you, please make arrangements in advance.
Visit our website and check out our RV Specials page
Sicard RV News Feed
Sales Department
Click To Open
Sales Department
Sales Hours
Monday: 9:00am - 6:00pm
Tuesday: 9:00am - 6:00pm
Wednesday: 9:00am - 6:00pm
Thursday: 9:00am - 6:00pm
Friday: 9:00am - 5:00pm
Saturday: 9:00am - 5:00pm
Sunday: Closed
Service Department
Click To Open
Service Department
Service Hours
Monday: 9:00am - 6:00pm
Tuesday: 9:00am - 6:00pm
Wednesday: 9:00am - 6:00pm
Thursday: 9:00am - 6:00pm
Friday: 9:00am - 5:00pm
Saturday: 9:00am - 5:00pm
Sunday: Closed
Parts Department
Click To Open
Parts Department
Parts Hours
Monday: 9:00am - 6:00pm
Tuesday: 9:00am - 6:00pm
Wednesday: 9:00am - 6:00pm
Thursday: 9:00am - 6:00pm
Friday: 9:00am - 5:00pm
Saturday: 9:00am - 5:00pm
Sunday: Closed