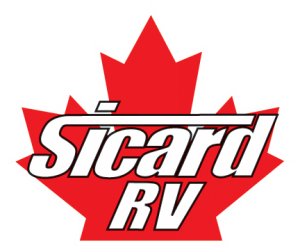 Sicard RV
Contact Information
Location
Sicard RV
7526 Regional Road 20
Smithville, ON
L0R 2A0
Hours of Operation
Monday: 9:00am - 7:00pm
Tuesday: 9:00am - 7:00pm
Wednesday: 9:00am - 7:00pm
Thursday: 9:00am - 7:00pm
Friday: 9:00am - 5:00pm
Saturday: 9:00am - 5:00pm
Sunday: Closed
Contact Dealer
As a family business it is our goal to make you feel like you are part of our family. Our many years of experience and customer satisfaction ensures that your needs will be met.
Through the hard work and dedication of Omar and Marjorie Sicard, what began as a modest RV operation with 2 hard-top fold-down trailers has grown into something special...
A large 30 acre lot and modern indoor showroom await you. With a huge selection of new and pre-owned recreational vehicles on display every day from leading manufacturers, you'll be sure to find what you're looking for.
Your vehicle will receive quality care in one of our 16 service bays. We also feature one of the largest Parts & Accessories stores and also feature an on-site Detailing & Restoration facility to clean, protect, detail and renew your RV.
Because we are one of Canada's largest volume dealers, we can assist you in negotiating a great deal on the RV of your choice. Our extensive service center is there backing up everything that we sell.
Featured News & Specials
Thank You for Visiting Our Fall Open House!
We want to thank everyone who visited during our Fall Open House! Despite the weather everyone had a great time and we finally saw the new Imagine from 5 Mars arrive!
Winnebago Era Motorhomes!
Brand New - Full Warranty - Amazing Prices
Take advantage low prices on 2 brand new 2015 & 5 new Winnebago Era class B motorhomes.
Click here to see our new Era motorhomes!
We Are Buying Motorhomes!
Have a motorhome you are looking to sell? We might be interested! Contact us at 1-800-688-2210 or 905-957-3344 and ask for Roger or Gary!
Get AIR MILES Reward Miles on Parts & Service at Sicard RV
Get MILES for buying the parts & accessories you want and having the service work done your RV needs!
Check Out Our RV Specials
Visit our website and check out our RV Specials page for our current sales, offers or featured inventory!
Sicard RV News Feed
Sicard RV Fall Open House 2016 Video
Posted on 9/15/2016 at 2:34:48 PM
Show specials are now available! Take advantage of special show financing rates on our huge inventory, plus see our featured deals in our flyer!
Watch Video

2017 Jayco Hummingbird Review Video at Sicard RV
Posted on 7/26/2016 at 9:48:14 AM
Learn more about the all new 2017 Jayco Hummingbird by watching this entertaining video on our YouTube channel!
Watch Video

Jayco's New Hummingbird's Have Landed!
Posted on 7/13/2016 at 4:18:16 PM
The all new 2017 Jayco Humminbird 17RK and 17FD have just arrived at our dealership!
Read More
Sales Department
Click To Open
Sales Department
Sales Hours
Monday: 9:00am - 7:00pm
Tuesday: 9:00am - 7:00pm
Wednesday: 9:00am - 7:00pm
Thursday: 9:00am - 7:00pm
Friday: 9:00am - 5:00pm
Saturday: 9:00am - 5:00pm
Sunday: Closed
Service Department
Click To Open
Service Department
Service Hours
Monday: 9:00am - 6:00pm
Tuesday: 9:00am - 6:00pm
Wednesday: 9:00am - 6:00pm
Thursday: 9:00am - 6:00pm
Friday: 9:00am - 5:00pm
Saturday: 9:00am - 5:00pm
Sunday: Closed
Parts Department
Click To Open
Parts Department
Parts Hours
Monday: 9:00am - 7:00pm
Tuesday: 9:00am - 7:00pm
Wednesday: 9:00am - 7:00pm
Thursday: 9:00am - 7:00pm
Friday: 9:00am - 5:00pm
Saturday: 9:00am - 5:00pm
Sunday: Closed