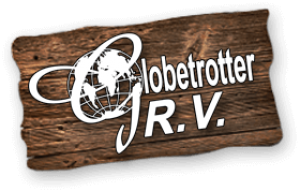 Globetrotter RV Inc.
Contact Information
Location
Globetrotter RV Inc.
12563 Hwy-50
Bolton, ON
L7E 1M4
Hours of Operation
Monday: 9:30-5:00
Tuesday: 9:30-5:00
Wednesday: 9:30-5:00
Thursday: 9:30-5:00
Friday: 9:30-5:00
Saturday: 10:00-5:00
Sunday: by appointment
Contact Dealer
Together with his family, owner and founder, Carl Clark, began Globetrotter R.V. in 2002, after relocating from Western Canada and enjoying almost 20 years of success in the RV industry in the west coast.  Carl always looked forward to arriving to work, and sharing his love for RVing with Globetrotter's building clientelle.
Globetrotter RV offers a full range of RV services, becoming a one-stop-shop for everything RV.  Whether you are looking to purchase a new or previously owned RV, service your currently owned unit or purchase that unique or special part, Globetrotter RV has it all.  Globetrotter RV also has a huge storage lot and competitive storage fees for when your RV is not in use. 
With an inventory that includes a variety of towables including travel trailers, 5th wheels, pop-up tent trailers and park models, Globetrotter RV is sure to have something that pleases the seasoned traveller or entry-level RVer alike.
Globetrotter RV, a name you're sure to hear more of as we strive to become the number one towable RV dealership in Southern Ontario.  As we say at Globetrotter RV - "Nature is Waiting......" So don't miss out on the great stuff that Globetrotter RV has to offer.
Sales Department
Click To Open
Service Department
Click To Open
Parts Department
Click To Open